15 May

Paper#1 Lineups, Show-ups, and Photographic Arrays

Paper#1

Lineups, Show-ups, and Photographic Arrays

Before the law enforcement officials made use of forensic evidence as means to combat criminal activity and catch criminal offenders, the primary sources used by police officers were the lineups, show-ups, and photo array. Show-ups are the identification method where the suspect is presented to the victim of the crime, which differs from the photo array (Cicchini, 2010). These techniques were built to have a great foundation, and were based on the eyewitness account of the victim but are not perfect. Previous research has proved that eyewitness identification can be unreliable and has been the leading cause of wrongful convictions (Cicchini, 2010). Perhaps, the specific nature of the crime can cause a victim to mistakenly identify the suspect, thus leading to a wrongful conviction. Courts need to take into consideration the witness's capacity to observe the crime and whether the witness was impaired by stress or fright, personal biases, visual defects, fatigue, injury, drugs, alcohol at the time of the visual observation (Cicchini, 2010). If a vicious crime took place, then the victim may not have the proper frame of mind to correctly identify the suspect. Forensic evidence can then provide police officers a more definitive tool to correctly identify criminal suspects. Forensic investigators have been known to identify suspects by using a single strand of fiber taken from the crime scene (Saferstein, 2020). I would argue that the show-ups, photo arrays, and lineups should only be used in cases where no forensic evidence can be used to identify a suspect but are far less superior to forensic evidence.

References

Cicchini, M. D., & Easton, J. G. (2010). Reforming the law on show-up identifications. Journal of Criminal Law and Criminology, 100(2), 381+. https://link.gale.com/apps/doc/A238353109/AONE?u=tel_a_bethelc&sid=AONE&xid=013f8cdb

Saferstein R., & Roy T. (2020). Criminalistics. [Savant Learning Systems]. Retrieved from https://savantlearningsystems.vitalsource.com/#/books/9780135268407/

Paper#2

Occasionally, a patrol officer will use a technique such as a show-up when there is a cooperative witness of a crime who very clearly witnessed the incident occur, and officers have a suspect in custody who accurately matches the description given by their dispatch. I have personally seen this happen two, or three times in my four years of being a police officer and it is a rare occurrence. When people watch shows such as CSI or anything with law enforcement investigations in it, they are generally under the perception that reality works the exact same. I have been to calls where an unlocked vehicle had been gone through and a had items stolen out of it, during calls like this is when a victim will sometimes ask if we are going to fingerprint the door handles to identify the suspect. Unfortunately, as fingerprinting on a scene is still a tool law enforcement has the capabilities to use, it is a very rare occurrence as generally the only items ever to be fingerprinted are pieces of evidence which would be collected and sent to a TBI lab for that type of research, such as weapons, or burglary tools. "Humans and other primates are unique in having thickened, roughened, skin on their fingertips, toes, palms, and soles of the feet. These skin surfaces, when magnified, look like a plowed field, with ridges and furrows, and allow us the useful ability to grip things. Forensic scientists refer to this feature of skin as friction ridges. Skin is never completely dry or clean; grime, oil and sweat on the fingerpads create an impression of the ridge pattern, known as a finger- print, whenever someone touches something. Fingerprints have been recovered from all kinds of surfaces, although it has proved hard to detect them on human skin, which would be a very useful source of evidence if it could be done." (Identification Evidence. 2006). It is hard to say if things such as line-ups, or photographic arrays are a thing of the past as I have never had any experience with them, but that is not to say that investigators do not use them regularly. "The classic eyewitness identification takes place in court, with the witness pointing to the defendant and stating "That's the perpetrator." Such identifications are usually preceded by outof-court identifications, using one of three procedures: (1) lineups, in which a witness is asked to pick a suspect out of a line of people; (2) showups, in which a witness is shown just one suspect and asked whether that suspect was involved in the incident at issue; or (3) photo arrays, in which a witness is asked to pick a suspect's photo out of an array of photos." (Slobogin. 2002).

References

Identification Evidence. (2006). In K. L. Lerner & B. W. Lerner (Eds.), Crime and Punishment: Essential Primary Sources (pp. 282-285). Gale. https://link.gale.com/apps/doc/CX2588900121/GVRL?u=tel_a_bethelc&sid=GVRL&xid=6d3f880d.

SLOBOGIN, C. (2002). Eyewitness Identification: Constitutional Aspects. In J. Dressler (Ed.), Encyclopedia of Crime and Justice (2nd ed., Vol. 2, pp. 661-664). Macmillan Reference USA. https://link.gale.com/apps/doc/CX3403000116/GVRL?u=tel_a_bethelc&sid=GVRL&xid=91aca02b.

Paper 3

During a time of crisis for any organization, efforts should be focused on the crisis, stakeholders, and then functions should continue as normal once the crisis has been resolved (Crandall, Parnell, & Spillan, 2014). The stakeholders in the Penn State scandal seemed far too concerned with their image to do the right thing, however, when awareness for these types of situations is not always been as accessible, what is the right course of action? In spite of that, "four of the most powerful people at the Pennsylvania State University" knew of the accusations against Sandusky, for more than a decade, and still did not take the proper steps to protect future kids from Sandusky in his charitable organization (Crandall, Parnel, & Spillan, 2014, p. 18). Even after Sandusky's retirement, he was allowed continued access to the facility (Jacobs, 2014).

The grand jury indicted Sandusky on forty-five counts of crimes against children (Jacobs, 2014). The University President Graham Spanier and the head football coach Joe Paterno were terminated; Vice President Gary Schultz and Athletic Director Timothy Curley resigned, in connection with concealing Sandusky's inappropriate behavior. Later they were charged with crimes related to this incident. The NCAA decided that post-season games were to be barred for four years, scholarships were cut back, and head coach Paterno's wins for the past fourteen years were to be taken off the books; however, the University was still allowed to participate in sports. The controversial actions of the NCAA prompt lawsuits from former players, former members of the board of trustees, as well as the Paterno estate. It was said that the NCAA violated its own rules for normal or standard disciplinary actions. Nonetheless, Paterno's wins were reinstated, but the damage to the children in his charity program was already done.

In conclusion, the NCAA must follow the law in any situation, same as police, courts, and other law enforcement agencies. Our constitution does not allow punishment to exceed what is allowed according to the law, even if some feel it should. Penn State along with other corporations needs organizational plans to handle a crisis of this magnitude. However, this scandal has set the precedent for future institutions to learn from and the NCAA to revise their discipline policies to meet the demand of victims, like these young boys.

References

Crandall, W., Parnell, J. A., & Spillan, J. E. (2014). Crisis management in the new strategy landscape (2nd ed.). SAGE

Jacobs, J. M. (2014). Procedural Aspects of the Penn State Scandal. Parliamentary Journal, 55(4), 138–154.

Paper #4

On November 5, 2011, the sports world was rocked by the news that former Pennsylvania State University assistant football coach Jerry Sandusky was being charged with sexual abuse of minors" (Sanderson & Hambrick, 2012). The Penn State scandal hurt the school's reputation, not to mention all the students and school alumni affected. The troubling thing about the scandal is that the school's administrators knew about coach Jerry Sandusky and his problem with raping children. The school was wrong for hiding this information, and even worst, the school helped cover up what coach Jerry Sandusky was doing. Other people were involved in this scandal that is just as wrong as the school administration. When coach Jerry Sandusky was caught by staff in the shower with a minor, the staffer notified the school. When the staffer saw that the school did nothing about what he reported, the staffer should have gone to law enforcement. When the school finally did something about coach Jerry Sandusky, they came down hard on the administration. Many top officials quit or were fired over this scandal.

I feel that the National Collegiate Athletic Association (NCAA) took the sanctions they gave Penn State too far. Sanctions like barring the football team from any postseason games for four years, cutting back the scholarships that were to be giving out, and taking Coach Paterno's past 14 years of wins off the books (Crandall, Parnell, & Spillan, 2014). The sanctions that were hand down by the NCAA ended up punishing the wrong people. When the school fired everyone that helped cover up what Coach Jerry Sandusky had done, that is all that needed to be punished. What the NCAA did was punish people who had nothing to do with the scandal.

Reference

Crandall, W., Parnell, J. A., & Spillan, J. E. (2014). Crisis management in the new strategy landscape (2nd ed.). SAGE.

Sanderson, J., & Hambrick, M. E. (2012). Covering the scandal in 140 characters: A case study of Twitter's role in coverage of the Penn State saga. International Journal of Sport Communication, 5(3), 384-402.

Paper #5

The time when Theodor Seuss Geisel was making cartoons was a very controversial time in American history. The tensions towards African American citizens were still rising. While huge strides were made from the time of emancipation, it was still not enough during the time of World War II. The image I chose was one that brought to light this discrimination. The wartime demand for labor created opportunities for African Americans, but there were still challenges they faced to be treated equally (Schultz, 2013). This cartoon shows the war industry being told by Uncle Sam to use all the keys on the piano to get real harmony. This is referencing using African American laborers to build the war machine. The cobwebs on the black keys show how big business was against black labor during this time. Unfortunately, it was not just big business that kept segregation alive. It was seen in the military as well. African Americans were placed in their own units and were not integrated throughout the war. President Roosevelt fearing a protest at the capital in turn signed Executive Order 8802 which created the Fair Employment Practices Committee (Schultz, 2013). This committee required companies to hire workers without regard to race, creed, color, or national origin when they had federal contracts (Schultz, 2013). This cartoon shows both a positive and negative view. It shows that the war industry was still holding racist views. It also shows Uncle Sam poking at the war industry to hire all and not base it off race, creed, color, or national origin. We needed all Americans to work together in the war efforts during World War II. American needed to unite as a country to gain victory on both war fronts. I agree with Dr. Seuss's point of view in this cartoon. Our country has faced many issues throughout the years and after this class, I really realized the failure during Reconstruction hindered America for decades.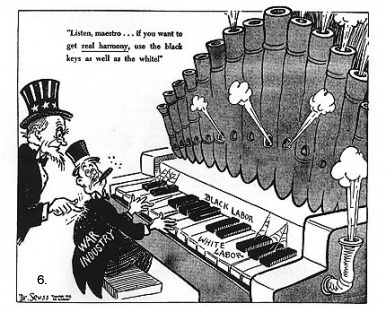 References
Political Cartoons (n.d.). http://theodorgeisel.weebly.com/political-cartoons.html.
Schultz, K. M. (2013). HIST, Volume 2: US History Since 1865. Belmont, CA: Wadsworth.
Paper#6
In this discussion in unit three, we are told to choose a political cartoon drawn by Theodor Seuss Geisel, also known as Dr. Seuss. Geisel was a political cartoonist as America entered and fought World War II. His cartoons during this period address many issues, from the dangers of Nazism to racism here at home. We are asked to choose a political cartoon from the 1930s or 1940s and explain its larger historical context. Who or what is being addressed, and what do we feel Dr. Seuss is saying about the subject through the medium of his art? Do we think Dr. Seuss has a positive or negative view of the cartoon characters in the cartoon you select, and do we agree with Dr. Seuss's point of view in the cartoon you select? Political cartoons played an essential role in the early days of politics. Cartooning is not simply a passive expression of the public spirit, but it actively contributes to its growth, and political creativity is born ("Metaphorical Devices," 2019).
Geisel or Dr. Seuss was a well-known children's book author of such books like Green Eggs and Ham and How the Grinch Stole Christmas(Lamb, 2013). Before he was a famous children's book, author D. Seuss was a cartoonist for the New York City newspaper known as PM from 1941 to 1943. Dr. Seuss drew approximately 400 cartoons within this time frame. Many of Dr. Seuss's cartoons were patriotic and even nationalistic. However, some of Dr. Seuss's cartoons did resort to ethnic stereotyping, which was unacceptable now but not uncommon in those times. Unfortunately, some of the ethnic stereotyping cartoons have called for the cancelation of Dr. Seuss instead of taking him and his cartoons with historical context. Still, I would agree that some of them are inappropriate.
I chose the cartoon "What This Country Needs is a Good Mental Insecticide" in my discussion. With all the fuss about Dr. Seuss being prejudice, I see this cartoon being the total opposite, and it does paint him in a positive light. In my opinion, the cartoon is saying that we need a mental insecticide that kills the negative thoughts in our heads. In the cartoon, Uncle Sam sprays the man with the insecticide and kills the prejudice or racial bug in his head. That is a powerful cartoon that is still relevant in today's world. There is a bug living in everyone's head that gives people negative thoughts, and if that bug were dead, everyone's life and even the world would be better.
Lamb, C. (2013). Herblock's History: Political Cartoons from the Crash to the Millennium/Dr. Seuss Went to War: A Catalog of Political Cartoons. Journal of American History, 100(3), 946–947. https://doi-org.bethelu.idm.oclc.org/10.1093/jahist/jat521
Metaphorical Devices in Political cartoons with Reference to Political Confrontation in Pakistan after Panama Leaks. (2019, June 30). Journal of Pakistan Vision, 20(1), 1. https://link.gale.com/apps/doc/A589659959/AONE?u=tel_a_bethelc&sid=AONE&xid=07a3e809
Paper #7
I really struggled with this because I am not a visual person and still art, whether it be paintings, photography or sculptures just does not move me. Granted there are some sculptures that I find interesting not based on the actual piece, but the overall mechanics of how it was put together. For example, the Cloud Gate in Millennial Park in Chicago, IL (famously called the Chicago Bean) I am more intrigued by how the artist was able to keep the seamless appearance using over 150 stainless steel plates. (Mastropieri, 2020) Architecture would be good example to illustrate my appreciation of function over form.
I am an audiophile and am extremely influenced by music. As far as trying to pin something down to art or art-like is very genre dependent. Music can be used as a tool to both heighten or change the mood you are in. Most types of music one could easily place in an art-like category based on cultural preferences like Crash Test Dummies or Dido. However political bands like Rage Against the Machine or rapper Tupac Shakur a legitimate argument can be made that they both have form and content and provide insight into the subject matter. (Jacobus & Martin, 2019)
To close this out, a brief synopsis of me. I am married and father to two teenagers. We are a merry band of social and political misfits living in middle Tennessee with 3 dogs and 3 cats. As if that isn't enough to keep me busy, I work as a Critical-Care Paramedic provider and educator intermixed with some social and political activism.
References
Jacobus, L., & Martin, F. D. (2019). THE HUMANITIES THROUGH THE ARTS, TENTH EDITION. McGraw-Hill Education.
Mastropieri, K. (2020, April 29). A Brief History of the Chicago Bean. Retrieved from culture trip: https://theculturetrip.com/north-america/usa/illinois/articles/brief-history-of-the-chicago-bean/
Paper #8
According to Sheposh (2020), art is the visual expression of human imagination in an attempt to create an object that carries an aesthetic or emotional impact. Art generally includes painting, sculpture, drawing, architecture, printmaking, photography, and filmmaking. A particular piece of art that provokes emotions is "The Scream" by Edvard Munch. There are four versions of 'Scream' which the one that became the most famous work was the last one painted in 1893.
The Scream evokes several emotions by just viewing the piece. It evokes loneliness, stress, isolation, madness, scared, uncertainty, anxiety, and even suicidal thought. By viewing the work, it seems as the person also wants to let people know they exist. It can also be seen as a person releasing their internal emotions due to overwhelming by screaming. The Scream is generally interpreted as a representation of the universal anxiety of modern man (Kasmir Images, 2020).
The Scream is considered to be artlike rather than art. Artlike is assumed to be work that possesses some characteristics of works of art but lacks revelatory power (Martin & Jacobus, 2019). The piece is artlike due to being attention-holding. It also lacks a revealed subject matter meaning that the piece can have various views concerning its meaning. Thought-provoking is another characteristic of artlike that can occur when viewing the piece due to colors and the person's expression.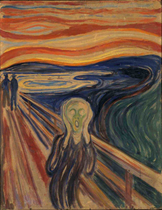 My name is Yesica Perez. I am currently a customer service advisor at a utility company and pursuing my bachelor's degree in business leadership. There are many things I enjoy doing in my free time, such as traveling, attending Tennessee VOLS basketball games, and playing basketball and volleyball.
Reference
Kashmir Images (2020). The Scream (1893).
Sheposh, R. (2020). Art. Salem Press Encyclopedia.
Martin, F. D., & Jacobus, L. A. (2019). The humanities through the arts (10th ed.). McGraw-Hill Education
Our website has a team of professional writers who can help you write any of your homework. They will write your papers from scratch. We also have a team of editors just to make sure all papers are of HIGH QUALITY & PLAGIARISM FREE. To make an Order you only need to click Ask A Question and we will direct you to our Order Page at WriteEdu. Then fill Our Order Form with all your assignment instructions. Select your deadline and pay for your paper. You will get it few hours before your set deadline.
Fill in all the assignment paper details that are required in the order form with the standard information being the page count, deadline, academic level and type of paper. It is advisable to have this information at hand so that you can quickly fill in the necessary information needed in the form for the essay writer to be immediately assigned to your writing project. Make payment for the custom essay order to enable us to assign a suitable writer to your order. Payments are made through Paypal on a secured billing page. Finally, sit back and relax.
Do you need help with this question?
Get assignment help from WriteEdu.com Paper Writing Website and forget about your problems.
WriteEdu provides custom & cheap essay writing 100% original, plagiarism free essays, assignments & dissertations.
With an exceptional team of professional academic experts in a wide range of subjects, we can guarantee you an unrivaled quality of custom-written papers.
Chat with us today! We are always waiting to answer all your questions.